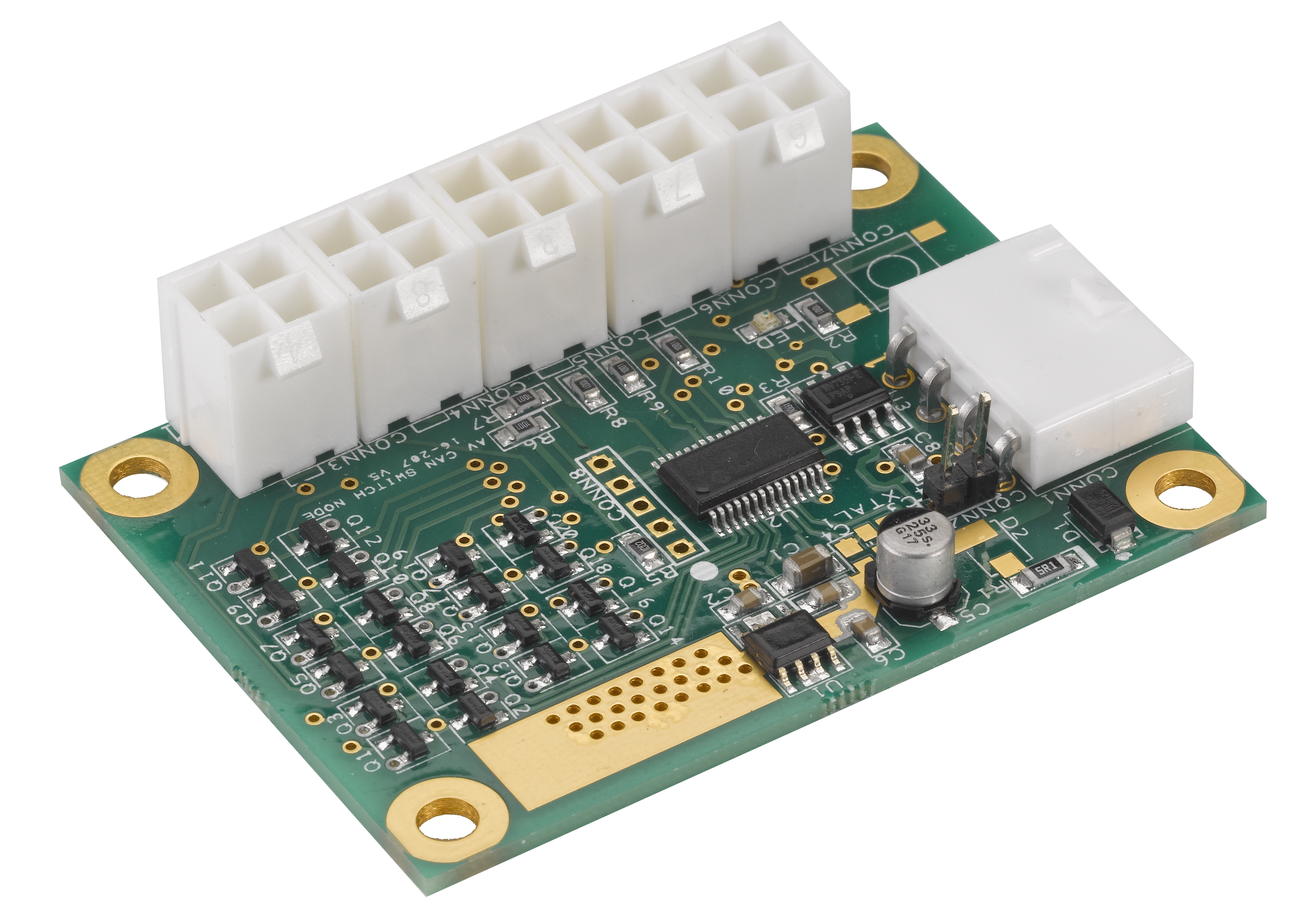 Control Developments have been developing bespoke control and instrumentation systems since 1987, and have made over a hundred systems and products since then. In addition to custom products, we also make a number of 'generic' or general purpose products such as Universal CAN controllers, CAN multiplexers, flow velocity instruments, X-ray densitometers and high current motor drives. The products shown here are just a small selection of the many products we have made.
Steering Controller
Developed for closed loop control of up to two steering axles. Using other identical modules can provide simultaneous synchronised steering of many axles. Exceptional level of integrity ensures no single failure will cause an unsafe condition.
Application: Military off road vehicle, Municipal vehicles
Gear Box Modulator
Drive-by-wire system. No calibration required once set up. Full hydrostatic drive control package. Can be multiplexed for multi-axis Control. Can control wheeled or tracked drives.
Application: Road sweepers, 4×4's, 6×6's, Tracked vehicles
SuperJET
Fuzzy-logic controller optimized for monitoring driver demand, engine rpm, road speed. Gear selection decision making according to user specified drive requirements.
Application: Military off road vehicles, Municipal vehicles
Pirahna
Powerful, generic CAN module with 40 I/O channels. Two processors work in parallel to ensure safe operation. High level of self and remote diagnostics. Protected against salt spray, vibration, immersion, temperature and shock.
Application: Control systems requiring the highest level of reliability, High integrity steering and hydrostatic drive controls
HUMS/VIMS Module
Cost effective logger/diagnostic unit provides Health & Usage Monitoring System and Vehicle Information Management system functions. Large memory allows continuous logging for years. Provides real time output. The unit can also be programmed to pre-emptively anticipate reduced reliability before a failure in the field occurs.
Application: Military off road vehicles, Fleet vehicles, Municipal vehicles
Remote Control Unit
A seven axis proportional remote controller available in cable or radio link versions. Used by US Marine Corps.
Application: Military servo positioning
EH-ECU
Sophisticated low-cost full electro-hydraulic controller. Programmable via standard laptop. All inputs & outputs fully protected. Inbuilt drive-by-wire capability.
Application: Road sweepers
J-Plex Processor
CAN compatible control system. Full on board diagnostics. All I/O fully protected.
Application: Road sweepers
CANview
Graphical User Interface unit, optimized for vehicle and plant applications. 240 x 128 screen with backlight, two separate CAN ports, and a wide range of flexible inputs and outputs.
Application: Mobile plant, Road sweepers, Gritters, Marine applications, Generator controllers
SSR BOX
High current, high power SSR driver. Ultra robust construction. Internal intelligent current sensing. Used with DATIC for precise control.
Application: Road paving machines
adCAN
Precision 16 bit analogue to CAN converter. Suitable for harsh environments. Capable of very fast throughput. Butterworth filter built in.
Application: Precision closed loop Servo valve controllers, Servo positioners, Precision instrumentation
Gear Box Controller
Fuzzy logic gearbox controller. Totally immersible. Simple, robust, reliable! Built to military spec.
Application: Military off road vehicles
fuzzyCAN
Intelligent electronic control system which communicates using the CAN standard within a vehicle and has the capability to manage the engine and hydrostatic transmission.
Application: Hydrostatic drive vehicles
J-Plex Node
Full CAN I/O module. Totally immersible. Stand-alone control capability. Large range of I/O capability.
Application: Road sweepers
Datic
Precision multi-purpose controller. Optimised for Diesel or Electric heating control. IP66 sealed, robust, weatherproof. Simple ergonomic operation with LCD readout. Wipe-clean surface.
Application: Asphalt temperature control
HMT Leveler
A military grade active suspension controller for use by the British Army – an example of our bespoke design and build capability.
Application: Military off road vehicle
UltraEye IV
Intelligent ultrasonic sensor. Uses fuzzy logic to determine head-of-material. Provides full closed loop control. Settable by pot or button. Intelligent thermal compensation built in.
Application: Conveyor and head-of-material control
Infra-red Transmitter
Low cost and reliable. Secure communication even in bright sunlight. 30 metre range. Individual security code available.
Application: Agricultural, Gritters
Automotive Controller
A module optimised for automotive control for special vehicle applications. It has 22 channels of high current output, analogue inputs, dual CAN ports and high current bridge outputs, as well as 16 flexible digital/analogue inputs for high or low side switches. Options include keyfob control and a
GPRS remote telemetry mode for data downloading as well as software uploading.
Application: PTO control, Generator and compressor controls, Wheelchair access vehicles,
HOD hydrogen generators, Engine key-out systems etc.
High Current Bridge Drive
This is a high current (15 Amp) 12-24 Volt bridge driver capable of driving DC motors in a precise way. The circuitry includes current sensing for collision detection, sensorless speed and position sensing, fully user programmable features such as ramps, dwell times, and a CAN interface option to integrate with automotive systems. The system also has an ignition detect circuit so it can be reliably de-powered when the ignition is on, meaning it can be fitted to vehicles without reg 10 certification being required. It also has a keyfob remote control action.
Application: Truck tail lifters, Winch controls, High current DC motors
Heavy Lift Controller
Package of CAN Nodes, networked together to provide synchronised lift of ultra-heavy loads. Capable of great accuracy at low speeds, has safety and override structure.
Application: Ultra-heavy lift, Distributed load lifting and lowering, Abnormal load manipulation
Any questions regarding our capabilities?
---